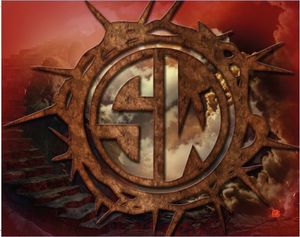 Hello Friends & Fans of Slaves Wage & God bless you! 
We have a lot of exciting news for you as we step into the year 2020! 
1)  As of the date of this post our brand new, eleven song CD, HEAVEN OR HELL, is now available for purchase!  Visit our STORE page here on our website for purchasing options! 
2)  Also on our STORE page, you'll notice we've partnered with ChristianBandShirts.com!  Click the ChristianBandShirts.com banner, visit our store, peruse the merchandise & buy everything from physical CD's and digital downloads of our music to t-shirts and hoodies to coffee mugs and cellphone cases!  If there is a particular design that you would like to see on a particular piece of merchandise, let us know and we'll see if we can make that happen! 
3)  Slaves Wage has signed with Sancrosanct Records out of Michigan!  We are extremely excited & honored to be a part of the Sancrosanct Records family and to be working with Mr. Tony Padilla & company! 
4)  Our long time bass player, Tony Fernandez, is no longer with Slaves Wage.  We thank him for all the years we had together of creating & playing music and we are excited for him and the next chapter in his life and service to our Lord & Savior, Jesus Christ! 
5)  That being said, please welcome the newest member of Slaves Wage, Mr. Xavier Sierra!  We are excited to have him on board as our new bass player and look forward to making memories with him as we make our way through 2020! 
6)  Visit our SHOWS page to see if we will be coming to your city or a city near you.  Thanks to Tony Padilla and Sancrosanct Records, we will be a part of AudioFeed in Urbana, IL in July!  Four days of great music!  
7)  Lastly, but not least, we are excited to be working with Mr. Rob Montes of RPMLive Entertainment out of California!  Rob will be helping us with booking as well as securing various other opportunities to share our music & message, so, stay tuned!
We would like to give a big thank you to you, our Friends & Fans, who have supported us, prayed for us & given to us in various ways to help make what we do possible.  Thank you so much as we march into 2020 together lifting up the name of Jesus Christ and declaring Biblical truth through song! 
Thank you, God bless you & stay tuned for more from Slaves Wage!  :-)
~ Jeff Saenz 
P.S.  Enjoy our first lyric video to the song PUSH!