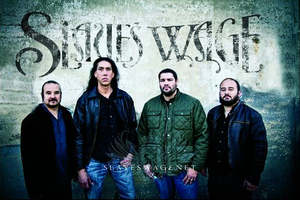 Hello Friends & Fans of Slaves Wage!
The New Year is upon us and we are excitedly looking forward to the opportunities that the Lord will provide to declare His goodness and the great salvation that He has provided through Jesus Christ the Lord!
Be on the lookout for opportunities to see us live and to support the declaration of the Gospel of Jesus Christ through the medium of heavy metal music as venues are added to our SHOWS page for 2017!
We are looking forward to playing in places, cities and at events that we have not previously played before.  :-)
Also, we will begin this January to start writing material for our next CD release which we are expecting to have available by December 2020.
Stay tuned in to where we are and what we are doing by liking us on FaceBook, following us on Twitter or checking us out on our other social media sites (see our CONTACT page for more info).
So many great things the Lord has done and will do and we hope you will join us on this journey by keeping us in your prayers and supporting us as the Lord leads.
God bless you and yours and stay tuned for more from Slaves Wage!  :-)
Jeff Saenz
SLAVES WAGE