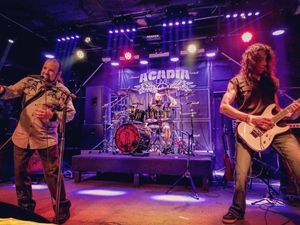 Hello Friends of Slaves Wage!
What a great year 2017 was and thank you for being a part of it in all the many different ways that you were:  from your prayers and kind comments to attending the shows and supporting us through purchasing merchandise, we appreciate you and thank you! 
As we look come to the end of our annual two month holiday break we look forward to stepping into 2018 booking shows, writing new material and getting the chance to meet you and hear from you! 
Our goal is to have a brand new, 10-12 song CD out by the beginning of 2020.  As of now, we have three songs written with the working titles of D.O.O.M., PUSH & HEAVEN OR HELL. 
We appreciate you and your support through the years and look forward to continuing to make music that glorifies Jesus Christ and presents biblical truth...heavy metal style! 
Thank you, God bless & stay tuned for more from Slaves Wage!
 
~ Jeff