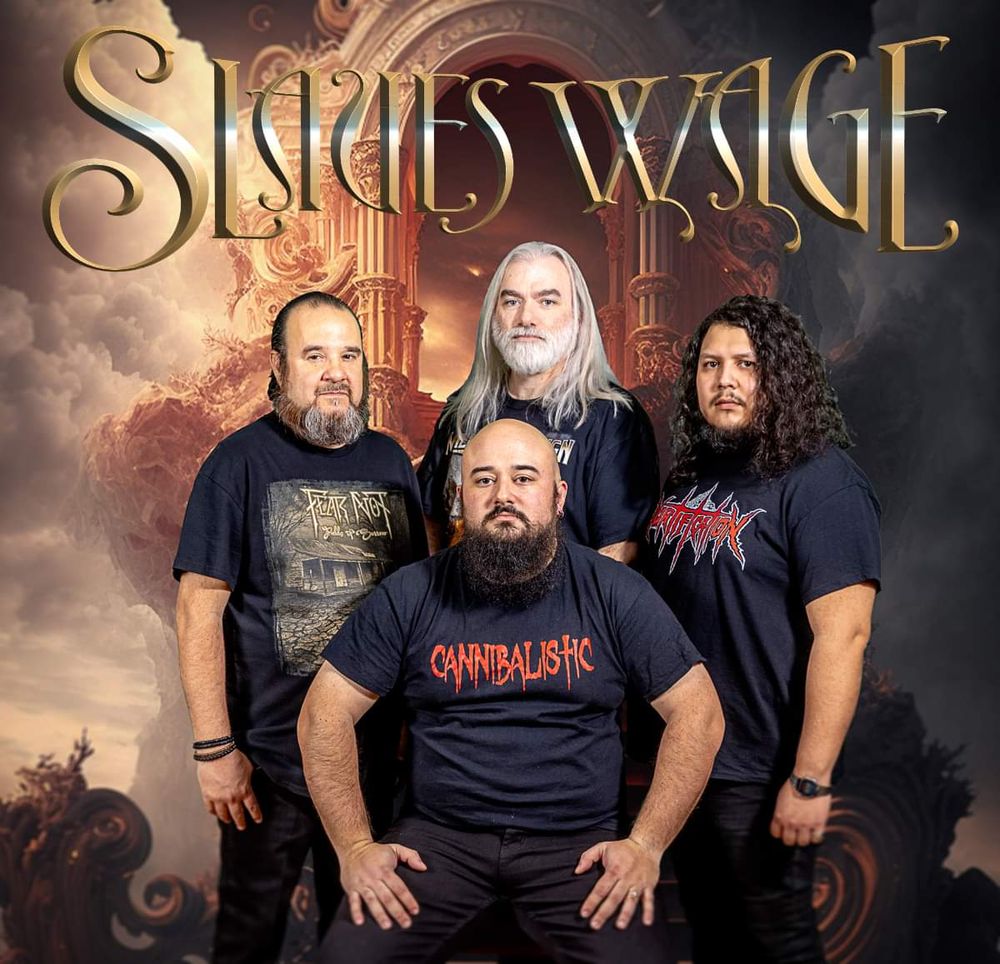 SLAVES WAGE is a heavy metal band from Arlington, TX, USA.
All band members are Christians and their love for all things heavy and their Lord  prove to be a match made in Heaven.  Their hope and prayer is that their songs will in some way help all who listen find the answers to their questions, solutions to their problems, peace for a troubled mind and, most importantly,  a relationship with the God who so loved us that He gave His only born Son, Jesus Christ, that we might experience what life was really intended to be (JOHN 3:16 ; JOHN 10:10)!  God bless you all and stay tuned for more from SLAVES WAGE!
So:  What does SLAVES WAGE mean?! 
The apostle Paul introduced himself to his readers in the book of Romans as,  "Paul, a SERVANT of Jesus Christ..." (ROMANS 1:1).  In the book of Titus,  Paul introduces himself to his readers in this fashion, "Paul, a SERVANT of  God..." (TITUS 1:1).  The word SERVANT in both these instances is better  rendered SLAVE or BOND SERVANT, one who has no rights of his or her  own.  Paul was saying that he was a SLAVE of Jesus Christ, a SLAVE of God  with no rights of his own. 
According to Webster's New World Dictionary, the word WAGE means, "what  is given in return for work done." 
Although it might appear to be an oxymoron, in the Kingdom of God, this is  reality!   You may have experienced once or twice in your life the feeling of  being unappreciated;  not appreciated by your boss, family, friends,  husband, wife for all that you do above and beyond the call of duty.   But God is a rewarder of them that diligently seek Him ( HEBREWS 11:6).  Jesus  said, "...:  if any man serve me, him will my father honor" (JOHN 12:26).  In  the book of Revelation, the resurrected Christ ( in seven different messages  to seven different churches, penned by the apostle John) spoke of rewards  for those who would choose to be faithful and obedient (REVELATION  2:7,11,17, 26-29 ; REVELATION 3:5-6 , 12-13 , 21-22).    
*NOTE*  I  recommend reading the entire account of Christs words to these churches  rather than just reading the individual verses themselves.  This will give you  a better picture of what is actually going on.  REVELATION 2:1 - 3:22 *    In the Old Testament, the Lord God told His people that if they would serve  Him,  He would bless them in various ways (EXODUS 23:25-27). 
These are only a few of the places in the Bible that attest to this particular  character trait of God.  He is a God who knows how to appreciate the good  and godly things that people do. He is a God who knows how to say "Thank  you" and show it in some tangible way as well!   The reason I share these  particular verses with you is to point that out to you.  God is not like your  unappreciative boss or family member.  He is a REWARDER of them that  diligently seek Him!  No good thing will He withhold from them that love Him  and serve Him (PSALM 84:11)! 
Hence the name SLAVES WAGE!  God delights in blessing those who bless  Him!  God delights in rewarding those who love Him and serve Him!  He is  not opposed to that!  He wants to see you happy and healthy! He wants to  see you prosper and be in health even as your soul prospers (3 JOHN 2)!  God loves you and wants the very best for you, not only in eternity to come  but also in the here and now!

JEFF SAENZ
SLAVES WAGE